Warehouse Lighting Design: 7 Tips For Commercial Builders
Did you know that poor lighting in warehouses can actually negatively affect productivity? Not only that, but outdated commercial lighting systems can waste a lot of energy, which in turn, wastes money.
Improving your warehouse lighting design with a commercial lighting retrofit has numerous benefits, including:
Increased employee productivity 🏃
Boosted employee morale 😃
Lower energy consumption & costs ♻️
If you're thinking of upgrading the lighting in your warehouse or building a brand new property, consider these 7 helpful tips!
1) Choose Between the 3 Light Sources
You have options for the lightbulbs you use in your warehouse. The three most common light sources for warehouses are:
LED
Fluorescent
High-intensity discharge (HID)
HID lights were the popular choice for warehouses for many years. They're still used today thanks to their low initial cost. However, they don't offer many color options. They also require a warm-up time before reaching full illumination and a cool-down period before they can be turned on again.
Fluorescent lighting is historically a budget-friendly option. They have more color temperatures, sizes, and shapes. However, they have a short lifespan, aren't as energy-efficient or environmentally friendly, and they produce a type of light that isn't as appealing to many people.
LED lighting is often lauded as the best choice for warehouses. LED lamps consume less power and have impressive lifespans of 100,000 hours. Most warehouses use LED high bay lights, which are specifically designed for taller ceilings and can disperse light over large areas. The main drawback of LED lights is that they produce a spotlight effect— but this can be helped by using reflectors.
2) Be Intentional About Lighting Different Work Areas
As you know, warehouses have different areas with different purposes. Since the layout and the work being performed in each of these areas vary, you shouldn't opt for one-size-fits-all lighting solutions.
Storage and Racking: The aisles in the storage areas are often narrow and long, which can make it tough to evenly distribute light. Opt for high, vertical lights to promote clear visibility of the shelves. Linear LED high bay lights are a great option for these areas.
Sorting and Working Area: In working logistics areas, you want to prioritize lighting comfort, minimal glare, and energy efficiency. LED lights still perform well in this setting— just be sure your lighting design doesn't leave any shadowed areas.
Offices: If you opt for LED light in offices, be sure to take measures to minimize glare. Both lighting panels and linear lights are popular for office spaces.
Shipping and Receiving: Don't forget about the outdoors! Your employees working in shipping and receiving deserve to have clear light outside as well. LED flood lights and wall lights are great for personal safety. Plus, they're cost-effective and environmentally friendly.
3) Find a Practical Arrangement
Manufacturers make warehouse lighting specifically for the different areas we covered above. Be sure to practically arrange the lighting fixtures in the places they make the most sense. For example, linear aisle lights are best for aisles! Don't try to light an entire sorting area with a bunch of linear lights.
4) Think Long-Term
The real cost you want to consider when choosing a new warehouse lighting design is your future energy bills. While it may be tempting to choose the cheapest upfront option, that usually means you'll end up spending far more on electric bills in the future.
Instead, think about the long-term use of your lighting design. Opt for the most energy-efficient option possible to save funds in the long run. (LED lights are usually the best choice in this category.)
The puzzle piece of warehouse lighting can be tricky to rearrange in the future because swapping some components can impact the effectiveness of other lights. So be sure you feel confident in your lighting design. It will likely need to remain in place for many years.
5) Consider the Color
The color of indoor lights actually greatly impacts contrast and visual clarity (and aesthetics). It's vital to be able to read labels clearly in warehouses, so consider higher index light, which is better for reading. Try to stay above Color Rendering Index (CRI) 80 for an optimal light color.
6) See Where You Can Cut Energy Costs
Before deciding on a new lighting design for an existing building, perform an audit on your current energy costs. The entire building may not need to be lit at the same time, or you may be able to install more efficient lighting sources throughout the large working area.
7) Use Natural Light Where You Can
Numerous studies over the years have proven that natural light benefits your health. By boosting vitamin D intake, reducing depression, and promoting better sleep, natural light is essential for warehouses.
Being inside a building with minimal natural light sources can have quite a negative impact on your employee's health, mood, and productivity. Finding effective LED lighting sources is imperative, but so is incorporating natural light wherever possible.
When retrofitting your warehouse lighting or building a new warehouse, consider adding skylights and windows throughout the structure. Storage areas may need to remain protected from direct sunlight, but working areas and offices are great places to include natural light.
Work With a Vetted Electrician for Your Lighting Retrofit
Designing an entire warehouse lighting plan can be stressful and confusing to do by yourself. So why not leave it to the professionals? Here at 4Front Energy Corporation, we've been helping warehouses and other commercial businesses across Minnesota retrofit their lighting for years. Our modern solutions promote healthy workspaces and help you save on energy costs in the long run.
If you need help with your commercial lighting, reach out to 4Front Energy today! We'll get you set up with a free consultation.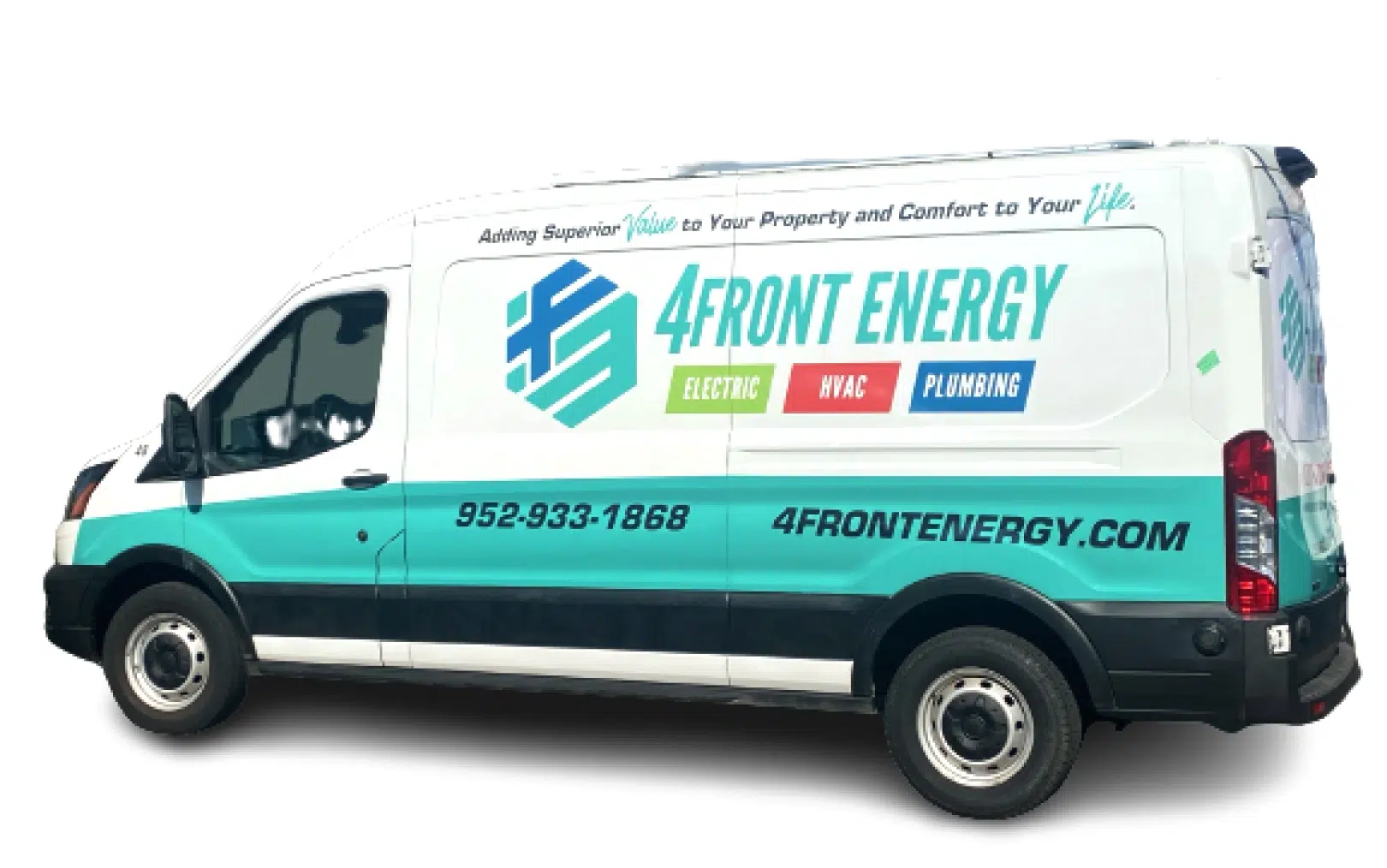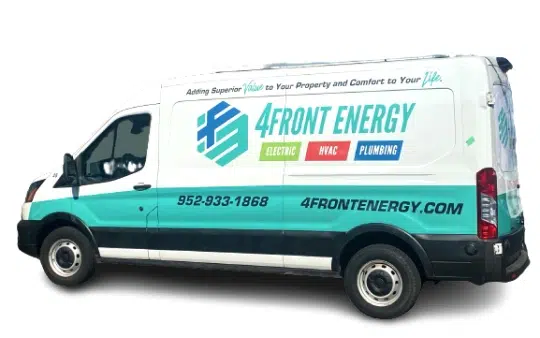 Why Choose 4Front Energy?
We're a Service Company, Not a Sales Company
Licensed, bonded & insured contractor
Trusted Twin Cities service provider for nearly 30 years
Reliable service excellence
One number for electric, HVAC, and plumbing
Stand behind our work with integrity
Fair and straightforward pricing
Provide invaluable comfort and integrated efficiency
Technicians that take pride in their work