How to (Properly) Install A Dishwasher In Your Home
Wondering how to install a dishwasher in your kitchen?
Installing a dishwasher in your home can seem daunting, but you can do it yourself with this step-by-step guide! Dishwashers are a huge convenience and can save you a lot of time and hassle (and water!). We will walk you through the entire installation process so that you can do your own dishwasher installation with confidence. If you still have doubt we always recommend reaching out to a professional plumbing team.
The Benefits of Installing a Dishwasher
Installing a dishwasher can save you time and keep you from doing the dreaded chore of hand washing. Doing dishes by hand can be very time-consuming, especially if you have a lot of dishes to wash. With a dishwasher, you load the dirty dishes into the machine and let it do its job. Benefits of installing a dishwasher include:
Saving time

Keeping a clean kitchen

Dishes get cleaner

Saving water

No more chore of handwashing dishes
While dishwashers have been a common practice in homes since the 1970s, only about 68% of households today have a dishwasher. And even fewer (20%) use it more than once a week. Maybe this is because washing and hand drying a few dishes at once after dinner feels easier than waiting to load the dishwasher?
It could also be because people believe dishwashers waste water, which is very far from the truth. In fact, running your dishwasher every night vs. 10 minutes of handwashing saves up to 100 gallons of water every week. So installing a dishwasher is definitely beneficial for water and cost savings.
The Best Types of Dishwashers
Yes, there are different types of dishwashers. Back in the day, dishwashers simply sat on the floor or countertop and ran via a crank. But times have changed, and homeowners can install more dishwashers, from energy-efficient ones to portable ones.
Built-In Dishwashers
The most common type of dishwasher installed today would be a built-in. This type of dishwasher is usually what people envision when they think of a dishwasher. It is a larger appliance installed beneath your kitchen counter and becomes a part of your cabinetry. Built-in dishwashers are usually the most expensive but are also the most durable since they're not as likely to be moved around.
Benefits of built-in dishwashers:
Out of the way

Convenient

Can hold more dishes

More durable than other types

Can be white, black, stainless steel

Include energy-efficient models
Portable Dishwashers
A portable dishwasher is an excellent option for people who have small kitchens or limited counter space. As the name suggests, this type of dishwasher can be moved around and does not need to be installed in any particular location. They usually sit on your countertop or table and can be connected to your kitchen sink via a hose.
Benefits of a portable dishwasher:
Available to renters

Can come with you if you move

Inexpensive

Small and compact

Easy DIY installation
Drawer Dishwashers
A drawer dishwasher is a new type of dishwasher that is becoming increasingly popular. As the name suggests, it is a dishwasher that opens like a drawer. They are usually installed beneath your countertop but can also be freestanding. Drawer dishwashers are fantastic for small families or couples who don't have a lot of space and don't have a lot of dishes.
Benefits of drawer dishwashers:
Great for small families or couples

Take up less space

Easy to load and unload

Inexpensive

It can be installed beneath your countertop
Countertop Dishwashers
And lastly, countertop dishwashers are another excellent option for renters! While they do take up a lot of necessary counter space, they are incredibly convenient for single people living alone who just want to wash a few glasses or dishes at the end of the day. They work by being placed on your countertop and can be connected to your kitchen sink.
Benefits of countertop dishwashers:
Ideal for single people with few dishes

Convenient

Don't require invasive installation

It can be used only when needed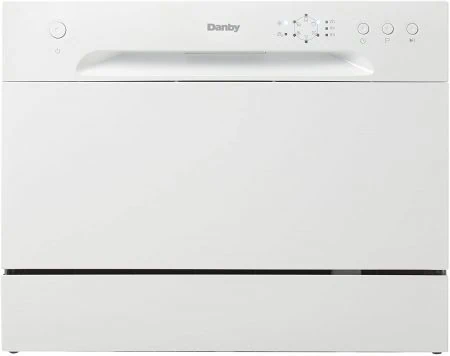 Dishwasher Repair Tips
Before we get into installing a dishwasher, we'd love to offer some vital dishwasher repair tips so you can maintain your dishwasher and avoid having to replace it if you don't have to.
Dishwashers, like any appliance, can be finicky and require some minor repairs to keep them running well. Homeowners should be able to make any of the minor repairs needed to prolong the life of their dishwasher.
Descaling Your Dishwasher
The most common dishwasher repair that homeowners need to do is descale their dishwasher. Over time, water can build up and create a scale on the interior of your dishwasher. This scale will prevent your dishwasher from cleaning dishes as effectively as it should.
To descale your dishwasher, you'll need to:
Turn off your dishwasher and disconnect it from the power source.

Remove any dishes or unnecessary components inside the dishwasher.

Fill a bowl with equal parts water and white vinegar.

Place the bowl of vinegar water on the top rack of your dishwasher.

Run your dishwasher on the hottest setting for a full cycle.

Once the cycle is complete, run your dishwasher on a second cycle with just hot water to remove any residual vinegar taste.
Cleaning Your Dishwasher's Filters
Another common dishwasher repair is to clean your dishwasher's filters. Dirty filters can lead to foul smells and a dirty dishwasher. The dishwasher filters should be easy enough to remove and replace.
Broken Latch on the Dishwasher Door
If your dishwasher door won't stay shut, then the latch is likely broken. This is an easy repair that you can do yourself. You may just need to purchase a new latch and replace the old one.
The Dishwasher Is Loose in the Cabinet
Your built-in dishwasher was likely installed into a bracket to hold it in place. The movement of the dishwasher over time can make the connections come a little loose.
If you notice your dishwasher is making unnecessary noise or slides around when loading or unloading, simply tighten the screws or bolts securing the bracket in place.
If Your Dishwasher Isn't Draining the Water
If you notice standing water at the bottom of your dishwasher, a few things could be causing it. First, check to see if the sink is draining properly. If not, there may be a clog in the drain line.
If the sink is draining properly, then the issue is likely with your dishwasher's pump. The pump may be damaged, or the float switch may be stuck in the "on" position.
If you're not comfortable making these repairs yourself, we recommend calling a professional repair person.
Steps to Installing a New Dishwasher or Replacing Your Old One
Hooking up a new dishwasher, especially if you're replacing an old one, doesn't require any special skills or plumbing experience. It's a relatively simple step process that DIY homeowners can pull off. As long as you follow these steps, you should be in good shape and washing dishes again in no time.
Step 1: Shut Off Electricity and Water Supply
Before you begin any work with any appliance, you should first shut off your electricity at your circuit breaker. Doing this work during the day can be helpful so you can see what you're doing, and keeping a flashlight handy will be necessary. And for dishwashers or other water-fed appliances, turning off the water supply is vital to avoid a mess.
Step 2: Removing the Old Dishwasher
Removing your existing dishwasher is relatively easy, but you still want to be careful not to damage any of the existing parts or brackets so you can easily fit your new one in its place.
Remove the front access panel on the bottom and disconnect any wired or water supply connections.

Place a bowl under any water connections to catch leaking water.

Disconnect the drain connection from the bottom or back of the dishwasher.

Loosen the connectors to the bracket holding your dishwasher in place. Carefully slide it out from the cabinets, and if you must, lay it on its side/back to disconnect anything from the bottom. A tarp or drop cloth on the floor can ensure nothing gets scratched.

Discard your old dishwasher by donating or requesting pickup from local waste management.

Pro tip: tape any electrical wiring to the floor so when you slide your new dishwasher in place, it stays in place for easy connection.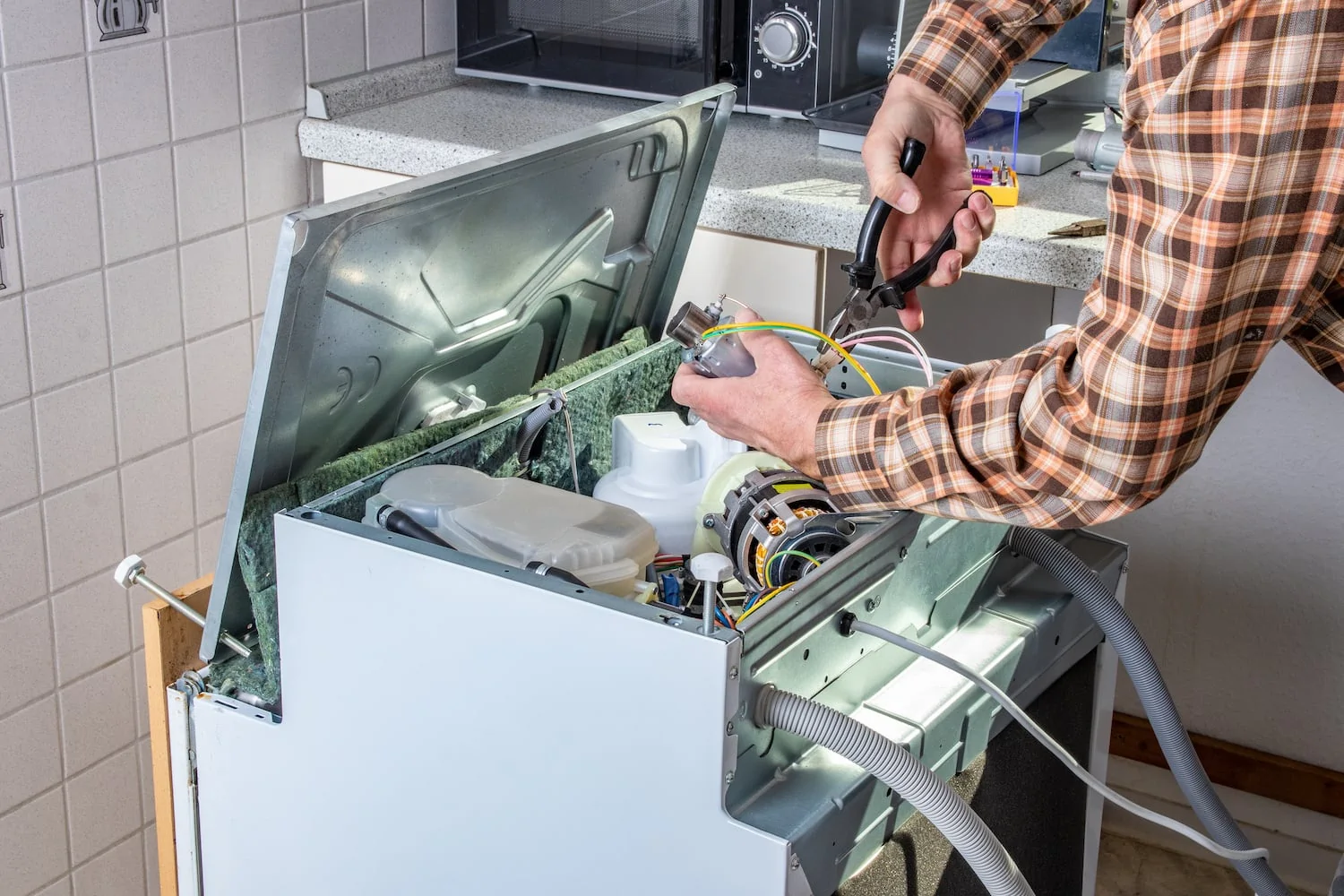 Step 3: Prep Your New Dishwasher for Installation
Now it's time to install your new dishwasher, but not without doing a few key steps first.
Unpackage your new dishwasher close to where you'll install it. Hauling it around outside of its packaging can risk denting or scratching it.

You can use its packaging as support to lay it down while you prep for installation. Remove the front access panel on the bottom.

Before sitting it upright, follow the manufacturer's instructions to connect the right-angle elbow valve and any other electrical or drain connections.

Your installation kit likely comes with a new water supply line, which you can run from the old supply connection under the sink through a hole in the cabinet to connect to your new dishwasher. Attach the new water supply line to the shut-off valve.

Disconnect your old drain hose from the sink pipe or garbage disposal. Then route the new drain hose through the hole between the sink cabinet and the dishwasher securing it to the new drain hose to the floor. Then reconnect the new one where you removed the old one under the sink.
Step 4: Connect Drain Lines and Electrical
Once your dishwasher has its appropriate supply lines connected, you can move forward. Go ahead and slide it into place in your cabinets.
Via the access panel, connect the water supply, drain hose, and electrical components. Ensure no water leaks and tighten connections if necessary, careful not to overtighten and damage the threads.

Before securing it in place, turn the electricity back on at the circuit breaker and the water supply back on at the shutoff valve.

Test the function of the dishwasher and make sure it turns on and all settings work.

Make sure the dishwasher is flush against your cabinets, and use a level to make sure it sits straight so it can drain properly. Adjust the leveling legs on the bottom to get that level fit.

Make your final connections and secure the dishwasher to the brackets with nuts and bolts.

Replace the front access panel, and away you go!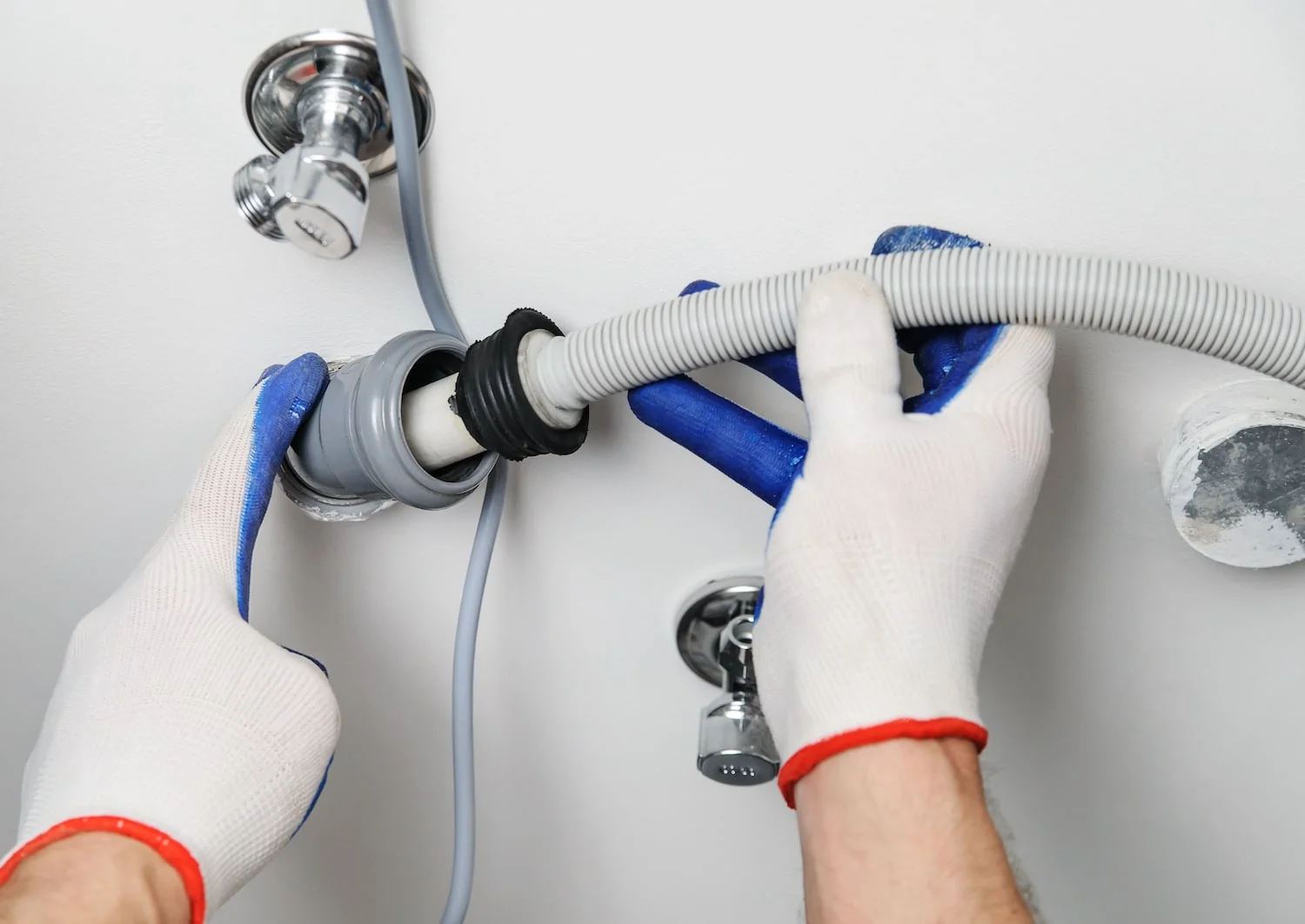 Maintaining Your New Dishwasher Post-Install
Now that you have your dishwasher installed, it's essential to give it the proper care so it can last you a long time. Consistently cleaning both the interior and exterior of your dishwasher will prevent grime build-up and ensure it runs smoothly. Note any issues with draining or getting things clean and repair them appropriately.
When to Leave Dishwasher Installation to the Pros
If you feel uncomfortable repairing your dishwasher, the team at 4Front Energy can handle it for you! Our team of experts has seen and done it all and is more than happy to help you repair and maintain your dishwasher and other plumbing fixtures to ensure longevity and proper functionality for years to come. When in doubt, call the pros!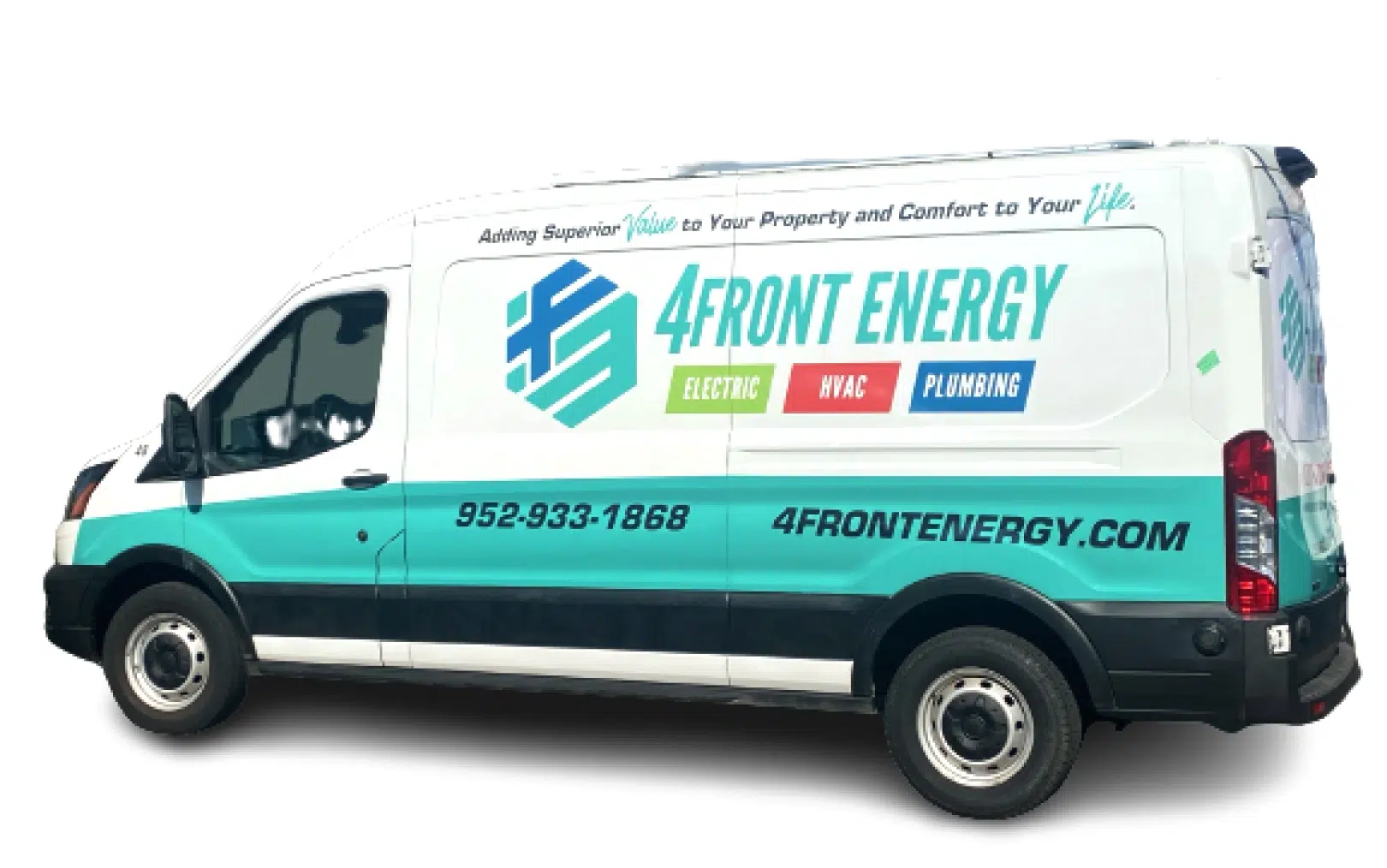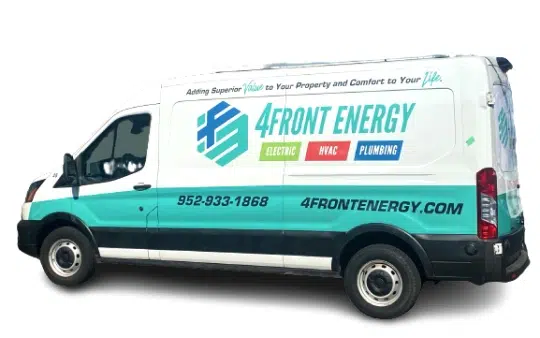 Why Choose 4Front Energy?
We're a Service Company, Not a Sales Company
Licensed, bonded & insured contractor
Trusted Twin Cities service provider for nearly 30 years
Reliable service excellence
One number for electric, HVAC, and plumbing
Stand behind our work with integrity
Fair and straightforward pricing
Provide invaluable comfort and integrated efficiency
Technicians that take pride in their work