Top 5 Hotels With EV Charging Stations (2022 Update)
When people travel and stay at hotels, particularly those who've been on the road for a while, they want a place where they can feel relaxed and rejuvenated. They want to be well-rested and ready to tackle the next day.
Such conveniences like complimentary breakfast and a convenient location are vital to their experience. Another, often looked-over, convenience for hotel guests is providing charging stations for their electric vehicles.
EV charging stations are still hard to come by on the road, so hospitality companies have been getting on board with supplying their guests with free, convenient EV charging stations.
To help accelerate your travel plans, we'll go over the top hotels with EV charging stations so you can plan ahead for your next road trip.
The Benefits of Easily Accessible EV Charging Stations
According to the Alternative Fuels Data Center, there are just under 47,000 EV charging stations in the United States.
Hotel guests are left scrambling for public charging stations so they can get to their next destination. Without easy access to a station, they may find themselves running out of juice while still on the road. This inconvenience usually ends in getting towed or even flat-out stranded while trying to reach a charging station.
As more gas stations and parking garages are hopping on board with EV charger installation, so is the hospitality industry. Restaurants, malls, and hotels are seeing the benefits of installing charging stations beyond just keeping up with trends.
There are three significant benefits to businesses installing EV charging stations, including:
Committing to sustainability. Companies that take steps towards more sustainable practices not only support employees or visitors who drive electric vehicles but ensure their business can support the changing world and support future changes to sustainability.

Draw in eco-friendly customers. Customers who have already made their commitment to sustainability with an electric vehicle may choose your business (or hotel in this instance) over competitors because of the convenience factor of being able to charge their vehicle while they shop or stay.

Boost profitability. Although electric vehicle chargers can be a high installation cost, the benefits may actually bring more profits to your business. You could charge hotel guests a small fee to use the EV chargers, or just by having them, you still have a leg up on the competition by being one of the few hotels in the area offering such a convenience.
Other benefits of making EV chargers more accessible include more sustainable road trips, encouraging more people to go electric, and even lowering the cost of gasoline since more people are using electric vehicles.
Top 5 Hotel Chains That Currently Offer EV Charging
As of right now, some of the biggest hotel chains in the world have committed to ensuring their locations have EV charging options for their guests. These numbers continue to rise, but luckily, you can find at least a few popular chains with EV chargers readily available for many people.
1. Holiday Inn
Holiday Inn leads the charge when it comes to installing electric vehicle chargers at their locations across the globe. This hospitality company has already installed electric vehicle chargers at nearly 800 locations worldwide. In 2018, Holiday Inn announced they were adding an additional 5,000 EV charging stations in Europe thanks to the generous donations from Volkswagen.
2. Hilton
At Hilton hotels, they've also hopped on board and offer four different types of charging stations: the Tesla wall-charging unit (only compatible with Tesla cars), GE WattStation, DuraStation brands (universal chargers), and EV Connect. Hilton's continued partnership with GE will only continue to thrive and expand to their entire hotel catalog, which is vital to keeping up with their sustainable customer base.
3. Best Western
Dominic Speno, Owner of Best Western Plus Villa Del Lago in California, said in 2015 that "Installing ChargePoint smart EV charging stations not only attracts new customers but also helps us achieve our own sustainability goals in addition to supporting those of our guests. ChargePoint smart chargers have made my hotel a more attractive destination for EV drivers, boosted our brand as a leader in green initiatives, and helped us achieve excellent reviews on reputed portals like TripAdvisor.com."
This is just one small piece of the sustainable pie that has led to thousands of EV chargers being installed at Best Western hotels across the country in the last five years.
4. Marriott
At Marriott hotels, guests are accommodated with accessible, fast EV charging stations. As of right now, there are more than 3,137 charging stations for electric vehicles at these hotels. The "Level 2" charging stations can now be used by guests to charge their EVs at these hotels. Most Marriott locations offer this as a free service, although fees may be charged at some locations.

Source: Plugshare.com
5. Radisson
Radisson hotels have partnered with Tesla to bring convenient, fast-charging to their Tesla-owning guests. It is unclear whether they are expanding to other brands or versions of EV chargers, but for right now, guests can charge at any Destination Charger for free. Also, some locations will have charging options for EVs that use the Type 2 inlet. Call ahead to be sure!
Tools You Can Use to Find Hotels With EV Charging Stations
If you're planning a road trip or to travel and rent an electric vehicle, it can be incredibly helpful to also plan out where and how you'll charge up the battery (if necessary). There are a few nice tools to use to find and map locations to easily plan your entire trip in every detail.
Alternative Fueling Station Locator
This website uses Google's mapping software to include detailed information for nearly 47,000 electric vehicle charging stations worldwide. Not only does this tool highlight individual stations with a list of stats and details, but it also creates a map you can easily view to browse all the locations in your area or on your route.
ChargeHub App
The ChargeHub App helps electric vehicle owners find and map charging stations in their area. It offers 3,000+ public charging locations, over 9,700 private charging locations, and all the information you need to get ready for your next road trip. The free app is available on iPhone or Android devices.
EV Hotels
The EV Hotels app is made specifically for finding places to stay that offer EV charging. The app is not free, but for $2.99, it is a significant benefit to people who travel frequently and want that added convenience.
Plugshare.com
Another valuable resource for finding and mapping charging stations is Plugshare.com. The free site offers visibility to over a hundred thousand locations in the US, Canada, and Europe, including private or public chargers.
Convenient Electric Vehicle Charging for Hotels and Beyond
Installing EV chargers at your place of business is not only convenient for guests and customers but confirms your commitment to sustainability. If your business wants to take that next step, contact 4Front Energy.
Our team of experts can install EV chargers at your business so you can keep up with the ever-growing trend of electric vehicle ownership.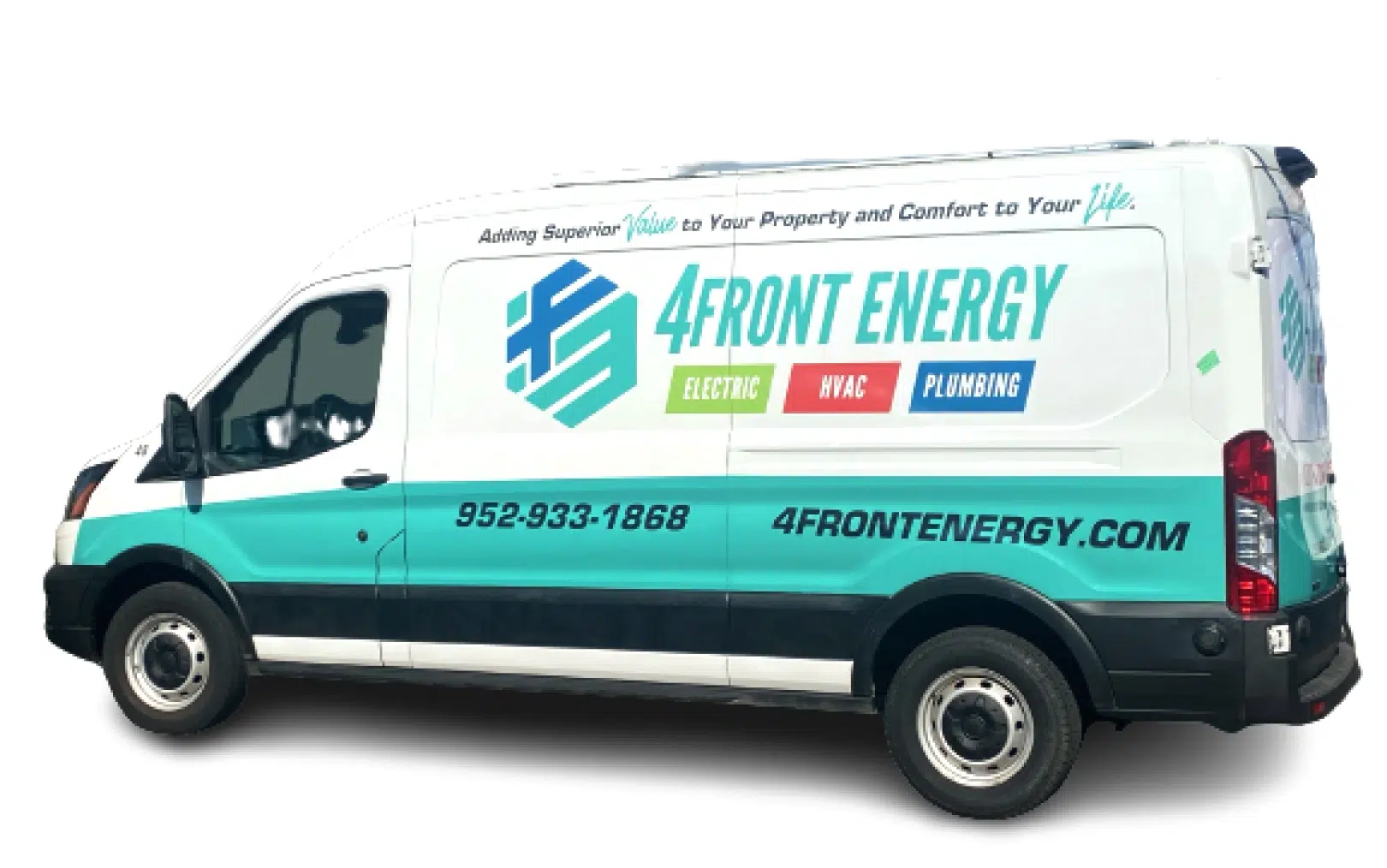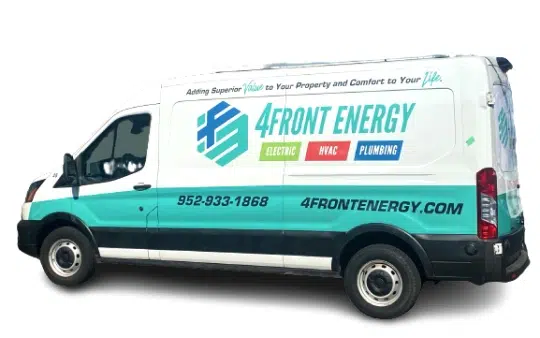 Why Choose 4Front Energy?
We're a Service Company, Not a Sales Company
Licensed, bonded & insured contractor
Trusted Twin Cities service provider for nearly 30 years
Reliable service excellence
One number for electric, HVAC, and plumbing
Stand behind our work with integrity
Fair and straightforward pricing
Provide invaluable comfort and integrated efficiency
Technicians that take pride in their work