Home Charging Stations: Everything You Need to Know About EV Charging Stations in 2022
If you own an electric vehicle (EV), you know you won't get very far without a great home charging station set up.
Local charging stations are becoming more popular and accessible, but 80% of EV owners choose to charge their cars with their home charging station. Home charging stations are relatively easy to use, but there are different options to consider when choosing a charging station.
Let's take a look at the different levels of EV charging stations and how they vary on installation, charge time, and electrical current requirements.
Level 1 EV Home Charging
Your electric vehicle comes with a level 1 home charger that plugs into your home's 120-volt outlet. You may not know that you have another option for a home charging station. Both options will charge your vehicle's battery, but there are differences in speed, electrical output, and installation.
A level 1 charger can be plugged into any 120-volt outlet, often found in your garage and laundry room, and will charge your EV over several hours. The great thing about Level 1 chargers is that they will come with the purchase of your vehicle, making it one less thing you have to buy, and most homes have an easily accessible 120-volt outlet which makes installation easy. Level 1 chargers are usually able to charge your electric vehicle fully overnight.
The downside of a level 1 charger is that they only add roughly 3 miles of range per hour of charging on average. If you're in a rush and need a fast charge, a level 1 charger might not always be suitable.
Level 2 EV Home Charging
Level 2 home chargers are a step up in electrical output, charging speed, and also cost. There is an installation process, and you do have to spend the money on a new level 2 charger, but most EV owners find the time and money worth it.
A level 2 home charger utilizes a 240v outlet which dramatically reduces the charging time required for your electric vehicle. These home chargers can charge your EV at a rate of 12 to 60 miles of range per hour, depending on your vehicle. Some smaller EV batteries can be fully charged in under 3 hours.
Because a level 2 home charger requires a 240v outlet, the installation process often requires some electrical work on your home's electrical panel. Your garage might have the required electrical panel, but we recommend contacting an electric vehicle charger installation company to prevent any harm to you or your home. At 4Front Energy, we've installed thousands of chargers throughout Minnesota. Schedule a free consultation today!
Things to Consider Before Buying Your Home Charging Station
You've got the car, you have confirmed you can install a home charging station, now you just need to purchase one. However, there are a few key things to consider before taking the plunge.
Whether or not you have a home with access to an electric outlet, garage outlets typically allow for easier installation.

This is more for condominium owners and people who live in housing associations: do you have permission to install a home charging station? Homeowners should have no issue but check with your board or association before making any installations because they may need to approve or deny that.

How many miles of range does your EV battery get per hour? If it's less than 12 miles per hour, then you'll want to consider opting for the level two home charging station

How long the cable is, and how much you'll need. Most EV home charging stations come with a standard 16-ft charging cable, but depending on where you install it or where you park your car, you may want something longer like 20+ feet.

Do you want a hardwired or plug-in station? A hardwired station would be installed into your home's electrical via the garage or on the side of the house. A plug-in model would simply plug into your outlet adapter and charge that way. We suggest hardwired because it's a bit more efficient and worth the upfront costs to just solidify it into your home. But we can install both!

Is it safety certified? EV chargers deliver a high amount of power to your vehicle, and you want to ensure it's safe to do so. With so many startups coming out with new home charging stations, you'll want to make sure they've gone through the proper Underwriters Laboratory testing and are certified safe for consumers.

If you aren't able or don't prefer to install one in your garage, you can install your charging station outside. However, you must make sure it is rated for the outdoors and will be able to withstand weather and the outdoors, and also have a cord long enough to charge your vehicle.
Make sure to consider all of these factors before you move forward with installing your charging station. It will be much easier to find a charger that will suit your needs and situation rather than change your home to suit the needs of the charger. However, adjustments can be made early on such as making a place for the hard-wired charger, and upgrading your power supply at your house to handle a level 2 charger.
Where to Install Your Home Charging Station
Most electric vehicle owners prefer to have their charging station in their garage, but for some owners that may not be an option. If you're planning on installing an electrical panel outside of your garage, be sure to choose a well-protected spot. Wind, rain, and other elements can damage your charging station and wires if they aren't covered. If you rent your property, be sure to check in with your landlord about charging station installation. An electrician at 4Front Energy can advise you on the best spots for installation during your free consultation.

How Much Does it Cost to Charge an Electric Car?
With home charging stations, the price you pay upfront will vary depending on your vehicle and home, plus which level of charger you require. Level one home chargers come at an affordable $200 or less with installation included in that cost. For level two home chargers you can expect to spend anywhere between $800-1500 on average for both the charger and installation process.
You can also purchase a wall outlet adapter that does not charge your car per se, but it converts an outlet into a USB port so you can charge up devices via any standard USB connector in your home or office. Wall outlets adapters come in handy when traveling in cities where there may be limited access to EV charging stations. These will cost much less than an installed charging port.
Now, the upfront costs are of course higher, but what about the costs of your monthly electricity to charge? Is it actually less than a tank of gas?
The answer is yes—home chargers are typically cheaper to use than gas. Depending on what you pay for electricity at home, it may actually be less expensive to charge your EV overnight rather than driving up the street and filling up a tank of gas! Level one home electric vehicle chargers will only cost between $0-15 per month depending on how many miles you drive per day, and level two home electric vehicle chargers will cost between $0-45 per month.
If your electricity is more expensive than these rates, you can make some small improvements for energy efficiency such as installing more efficient appliances and making sure you turn off lights and other electronics when not in use. Then, the cost savings will be even more and you'll be so glad you went with an electric vehicle.
The downside of a level one charger is that they only add roughly three miles of charge per hour of use. This is a fine option if you have plenty of time to charge your vehicle, but level two home chargers can add 12-60 miles an hour depending on the type and make of your electric car. Level one home chargers are only good for those with short commutes or who can have their vehicles plugged in at home for longer durations of time.
How to Save Money With Your EV Charger
When your electric car battery runs low, you don't have a choice and need to charge it ASAP. However, planning the times in which you charge your vehicle can ensure it's always filled up and ready to and you can take advantage of lower electricity rates in the evenings.
Electricity rates vary by state and even city; check with your provider to learn more about yours. Most utility companies charge higher rates during peak hours. For example, on-peak hours for electricity are between 8 am and 10 pm. Off-peak is the opposite of those times (10 pm to 8 am) and weekends and holidays are different. You can see more information on Minnesota state's peak hours and cost per kWh here. If your goal is to keep electricity usage costs down, try to avoid charging your vehicle during this time.
In general, peak times are weekday afternoons and evenings because it's when people are home from work and electricity usage is up. Late night and weekend hours see a decrease in usage and utility rates. It's the best time to charge your vehicle without running up your electric bill.
You can avoid plugging the vehicle in during peak times with enough planning and topping off the battery at public EV charging stations. Some electric cars have a feature that allows you to preset charging times. The battery will start charging while you're sleeping. You'll wake up to a fully-charged electric vehicle.
And lastly, a major benefit of both having an electrical vehicle and a home charging station is the opportunity for rebates from your local energy companies. Both Xcel Energy and Centerpoint Energy offer efficiency programs and rebates for those people seeking more sustainable options for their homes and vehicles.
If you own an electric vehicle and have questions about residential vehicle charging, contact 4Front Energy today! We have a team of expert electricians who can answer your questions and walk you through the home charging station installation process.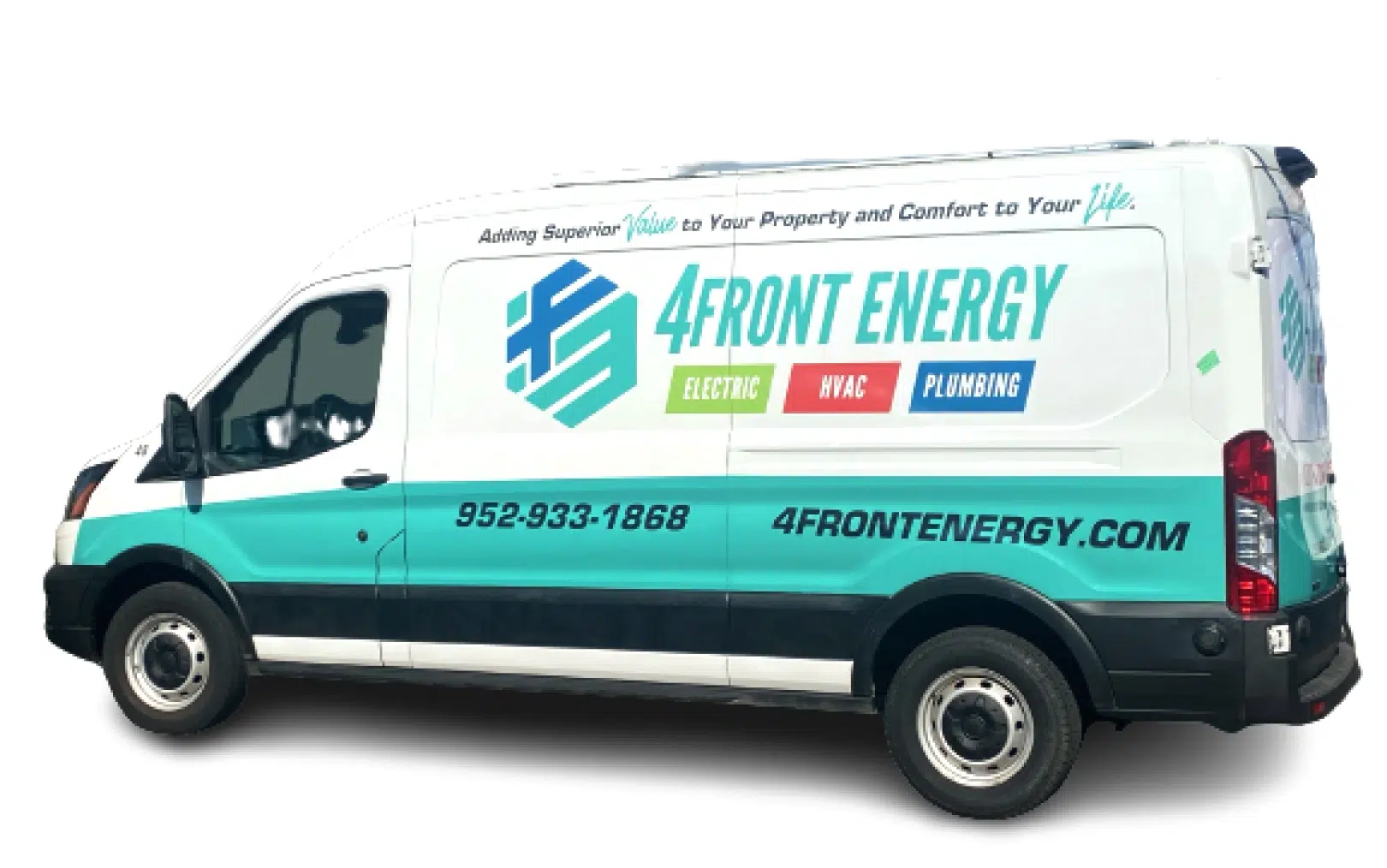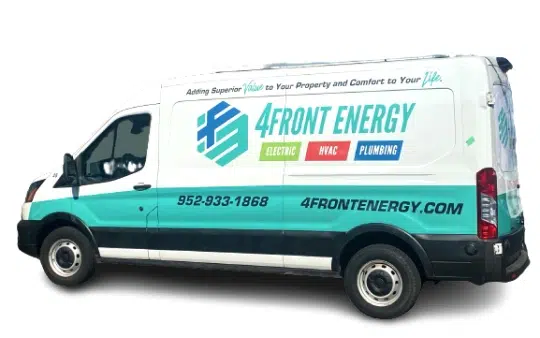 Why Choose 4Front Energy?
We're a Service Company, Not a Sales Company
Licensed, bonded & insured contractor
Trusted Twin Cities service provider for nearly 30 years
Reliable service excellence
One number for electric, HVAC, and plumbing
Stand behind our work with integrity
Fair and straightforward pricing
Provide invaluable comfort and integrated efficiency
Technicians that take pride in their work