Federal Grants For EV Charging Stations (Level 2 Charging)
Did you know that the federal government offers electric vehicle charging stations grants? That's right! If you are looking to install a Level 2 charging station at your business, you may be eligible for a grant from the federal government.
Today we'll cover the basics:
Who offers EV charger federal grants

How to apply for them

Resources for more information
One cool thing that has happened in 2022 is an agreement between the POTUS and the Departments of Transportation and Energy that is ensuring $5 Billion of funding goes towards a national EV charging network.
So far, $615,000,000 has been allocated across all 50 states, pending approval, to help the city and state governments finally build some infrastructure around accessible EV charging.
Now, federal grants are still a separate entity but a very viable option for businesses across the country to expand even further on EV charging infrastructure while committing to sustainability.
Today we'll go into detail about more federal programs, and after this post, you should be well on your way to applying for this beneficial (and deserved) federal grant for EV charger installation.
But First, What Is a Level 2 Charger?
You're probably familiar with your level 2 charger if you own an electric vehicle. However, it's complex for those inexperienced with electric vehicles and how they work overall. But basically, there are three levels of EV charging:
Level 1: This is the standard 120-volt household outlet. It's what you use to plug in your cell phone or laptop. This charges your car very slowly- about four to eight miles per hour. But it also doesn't require any additional electrical work to install.

Level 2: Level two chargers are 240-volt outlets, like those used for stoves and clothes dryers. They charge an electric vehicle much faster- about 20 to 30 miles per hour. But they do require some electrical work to install in a home, which is where federal grants come in to help cover those costs. But they are also the most frequently installed chargers publicly.

Level 3: Level three chargers are high-powered stations that can charge an electric vehicle up to 80% capacity in just 30 minutes. These are typically only found at commercial or public locations, as they require even more electrical work to install than Level two chargers.
Level 1 and 2 chargers often go into homes, but businesses looking to install chargers in their parking lots will most likely be looking to install faster charging Level 2 and 3 chargers for people on the road.
Federal Grants: Helping Businesses Install EV Chargers
Homeowners who have switched to electric vehicles are very familiar with EV charging stations. Most EV owners have installed at least a Level 1 or 2 charger in their garage at home. This ensures they can always have a fully charged vehicle every day when they leave for work.
But what about businesses wanting or needing to adapt to EV chargers as well? Federal grants can help those who want to commit to sustainability install and maintain those charging stations at their locations. Here's how:
The federal government offers tax incentives for businesses to install Level two and three EV chargers. The incentive can be a large percentage of the charger and installation costs. That could mean up to 30% savings, and if your business spends $50,000 on EV charger installation, you could get up to $15,000 back in federal funds.
The state of Minnesota, where 4Front Energy resides, offers $500 rebates for those that install a level 2 EV charger and reduced EV rate plans based on time-of-use: Dakota Electric and Connexus are resources to check out more details for this rebate.
The Steps for Applying for a Federal Grant
The federal government offers a few different grants, but the most common and accessible for businesses is the federal tax credit. This is because it's not a competitive grant process— meaning as long as you meet the requirements, you're likely to receive the funding.
To apply for this federal tax credit, you'll need to file a form based on the types of grant you're applying for. The three leading agencies that offer grants for businesses related to EV infrastructure are
The U.S. Department of Transportation

The U.S. Department of Agriculture

The Department of Energy
Other agencies handle EV infrastructure for more rural areas, which you can find more information about here.
To file an application for an electric vehicle charging federal grant, you need to take a few key steps:
Gather all your business information, including how many electric cars you think you will utilize your electric chargers.

Gather all of your information, including your type of business, the intention for EV chargers, and how many you think will apply to your business.

Determine which federal agency you will apply to.

Fill out the applicable federal grant application, which can be found on the federal government's website.

Turn in your federal grant application by the deadline.

You will then need to wait for a decision from the federal government, which generally takes a few weeks or months.
Now you'll wait for the decision. But in the meantime, you can research EV charger companies where you might want to install them and prepare marketing materials for announcing your commitment to sustainability.
How Sustainable Are Public EV Chargers?
Installing EV chargers at businesses can be a great way to show your commitment to sustainability. But how sustainable are the actual chargers themselves?
The answer: it depends.
Some companies, like Tesla, manufacture their own charging stations and use recycled materials to construct those stations. The company also offers solar-powered charging stations that are entirely off the grid.
Other companies, like ChargePoint, get their electricity from renewable sources like solar and wind. The company also offers a "Charge Ahead" program, which helps low-income drivers afford electric cars and access to charging stations.
So when you're considering federal grants for EV chargers, do your research on the company you're working with to ensure their practices align with your sustainability goals.
With federal grants available to help businesses cover the cost of EV chargers, there's no excuse not to make the switch to sustainable infrastructure. So if you're ready to commit to sustainability, research federal grant opportunities and get started on the process of installing them.
How to Install Commercial Level 2 EV Chargers
Whether you apply or get approved for a federal grant or not, it's important to know what steps you'll take to install your new (and beautiful) level 2 EV chargers. You'll need a solid plan in place, which may help your case get approved for a grant and assistance. But you'll also want your sustainability team assembled to hit the ground running when the time comes. So here are some vital steps to take if you're a business wanting to install new EV chargers at your location.
Step 1: Do your research on federal and state incentives for installing EV chargers. This will help you recoup some of the costs associated with installation and make the project more financially feasible.
Step 2: Research federal and state incentives for installing EV chargers.
Step 3: Work with an electrician to assess your electrical system and determine what upgrades need to be made to accommodate the new EV chargers.
Step 4: Get in touch with an electric vehicle charging station company to discuss your options and get a quote for installation.
Step 5: Once you have a solid plan in place, apply for federal grants (if you haven't already) and get ready to install some brand new EV chargers at your business!
Installing EV chargers is a great way to show your commitment to sustainability, and there are federal grants available to help offset the cost of installation. But it's important to do your research on both the federal grants and the companies you're working with to ensure their practices align with your sustainability goals. With a solid plan in place, you can get your EV chargers installed and start reaping the benefits of sustainable infrastructure.
Hire a Professional EV Charger Installer
Lastly, the biggest thing you can do for installing a Level 2 charger(s) is to work with a professional and trustworthy electrician well versed in EV chargers. That's where 4Front Energy comes in.
Our expert team of electricians has put in the time and gained the expertise for installing and maintaining electric vehicle chargers in homes, businesses, and elsewhere. We would love to help make your sustainable dreams come true. So if you have applied for a federal grant, or are just in the beginning stages of research, reach out to us for more information and get the ball rolling!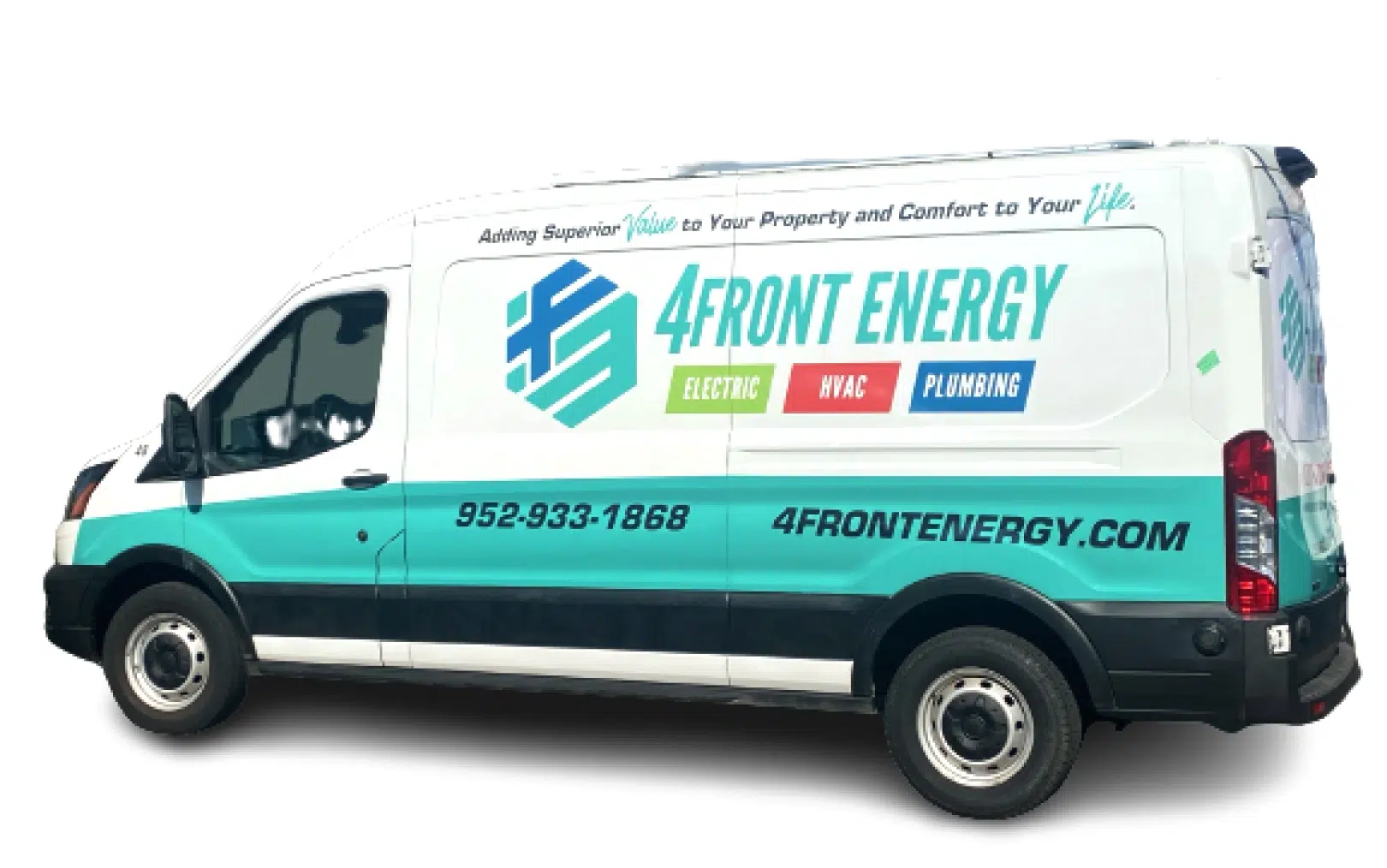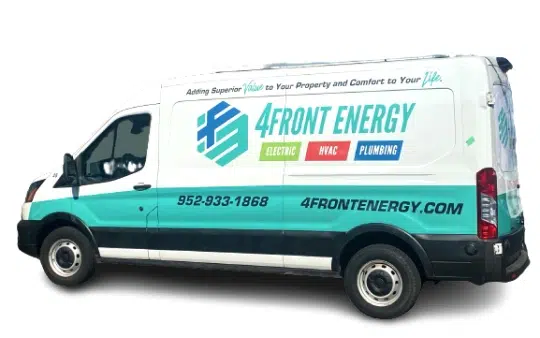 Why Choose 4Front Energy?
We're a Service Company, Not a Sales Company
Licensed, bonded & insured contractor
Trusted Twin Cities service provider for nearly 30 years
Reliable service excellence
One number for electric, HVAC, and plumbing
Stand behind our work with integrity
Fair and straightforward pricing
Provide invaluable comfort and integrated efficiency
Technicians that take pride in their work