New Construction Plumbing: Everything You Need To Know
Whether you have your sights set on building a new custom home or a commercial business, it's no surprise that there are numerous factors that must be considered during the construction process, such as:
Layout
Materials
Flooring
Lighting
And, of course, plumbing! 🚽🚿
Building a home or business from scratch gives you the opportunity to use the latest technology and materials. Plus, you get to decide exactly how you want your plumbing laid out. If you don't want to be completely clueless when consulting with your professional plumber, read on to gain an understanding of what takes place during new construction plumbing.
Parts of Your Home's Plumbing System 🚰
Generally, every home needs to have the same plumbing components to keep everything in working order. (Unless you plan to live completely off the grid!) Your plumbing system will include:
Pipes
Your plumber will need to install many different pipes throughout your home. The type of pipe used will depend on its purpose and location. For example, copper pipes are often used to transport hot water because they're good at resisting heat. Supply pipes bring fresh water into your home, while drainage pipes remove waste water and sewage.
Fixtures
You'll want to install all your plumbing fixtures before finishing the interior of your new construction project. Plumbing fixtures are the parts of the system that you interact with directly, such as:
Sinks
Toilets
Bathtubs and showers
Faucets
Drinking fountains
Appliances that use water, like dishwashers and washing machines
These fixtures need to be properly installed and connected to your home's pipes. Depending on your project, you may also need to install gas lines for appliances like stoves and dryers.
Sewer Lines & Septic Tanks
Septic tanks and sewer lines are vital components of any plumbing system. They're also tricky to install and must be handled by a professional. Septic tanks are housed underground about 10 to 25 feet away from your home. They separate solid waste from liquid waste. The liquids are then transported to leach fields, where they're filtered back into the ground. Solid waste stays in the tank and is eventually removed by a septic tank truck.
Sewer lines transport sewage from your home to the main sewer line. This line carries sewage to a treatment plant, where it's treated before being released into the environment.
Shut-Off Valves
Every property has a main shut-off valve that controls the water for the entire house. But individual appliances also have shut-off valves, like toilets and sinks. Shut-off valves are important because they allow you to quickly turn off the water flow if there's a plumbing emergency or if you need to perform work on an appliance.
The New Construction Plumbing Process
Plumbing will overlap with other components of the new construction process. But generally, adding plumbing into your new home or business follows these steps:
Step 1: Secure Permits
Before any work can begin, you'll need to obtain the proper permits from your city or county. The type of permit you need will depend on the scope of your project. It's vital to work with a licensed plumber who will secure the proper building permits and follow all local plumbing codes.
Step 2: Plan the Layout
The first step is to develop a plumbing layout. This involves deciding the placement of all your fixtures, pipes, and appliances. It's important to get this right from the start because it will be very difficult (and expensive) to make changes later on.
Step 3: Rough-In
After the layout is finalized, your plumber will begin the rough-in stage. This is when they'll actually start installing pipes and fixtures. They'll also cut holes in the walls and floors for where the plumbing needs to go. All the connections will be made at this stage, but the plumbing won't be hooked up to water or sewage lines yet.
Step 4: Installation
Once the rough-in is finished, your plumber will install the rest of the plumbing fixtures. This is when they'll connect your home's plumbing to the water and sewage lines.
Step 5: Testing
After everything is installed, your plumber will test the new construction plumbing to make sure it's all working properly. They'll also check for and fix any leaks.
Step 6: Final Touches
Finally, your plumber will add all the finishing touches, such as installing faucet handles and putting on toilet seats. They'll also clean up any mess they made during the installation process.
Tips for New Construction Plumbing Projects
If you're embarking on a new construction plumbing project, there are a few things you can do to make the process go more smoothly:
Work with a professional. Plumbing is a complex system, so it's best to leave it to the experts. Trust us, you don't want to DIY the plumbing in your new house unless you want to be swimming in frustration and debt. Hire a licensed plumber who has experience with new construction projects instead.
Make a plan. Before any work begins, take the time to develop a comprehensive plan with your plumber, general contractor, and architect. This will help ensure that everything is installed in the right location and that there are no surprises down the road.
Get permits. Don't forget to obtain the proper permits before work begins. Otherwise, you may have to start from scratch (and pay fines). Working with a licensed professional will mitigate this, as they will be the ones responsible for securing your permits.
Test, test, test. Once the new construction plumbing is finished, make sure to test it thoroughly. This will help catch any leaks or other problems before they cause major damage and before certain pipes get secured away behind your walls.
The Plumber You Hire Makes All the Difference 🧑‍🔧
There's already a lot of stress that comes with building a new home or business from scratch. The plumber you hire should take the stress off your plate, not add to it! If you have a new construction project coming up in Minnesota, be sure to work with the region's most-trusted team at 4Front Energy.
We have decades of experience completing new construction plumbing projects, and we look forward to bringing your vision to life! Reach out today to schedule a free quote!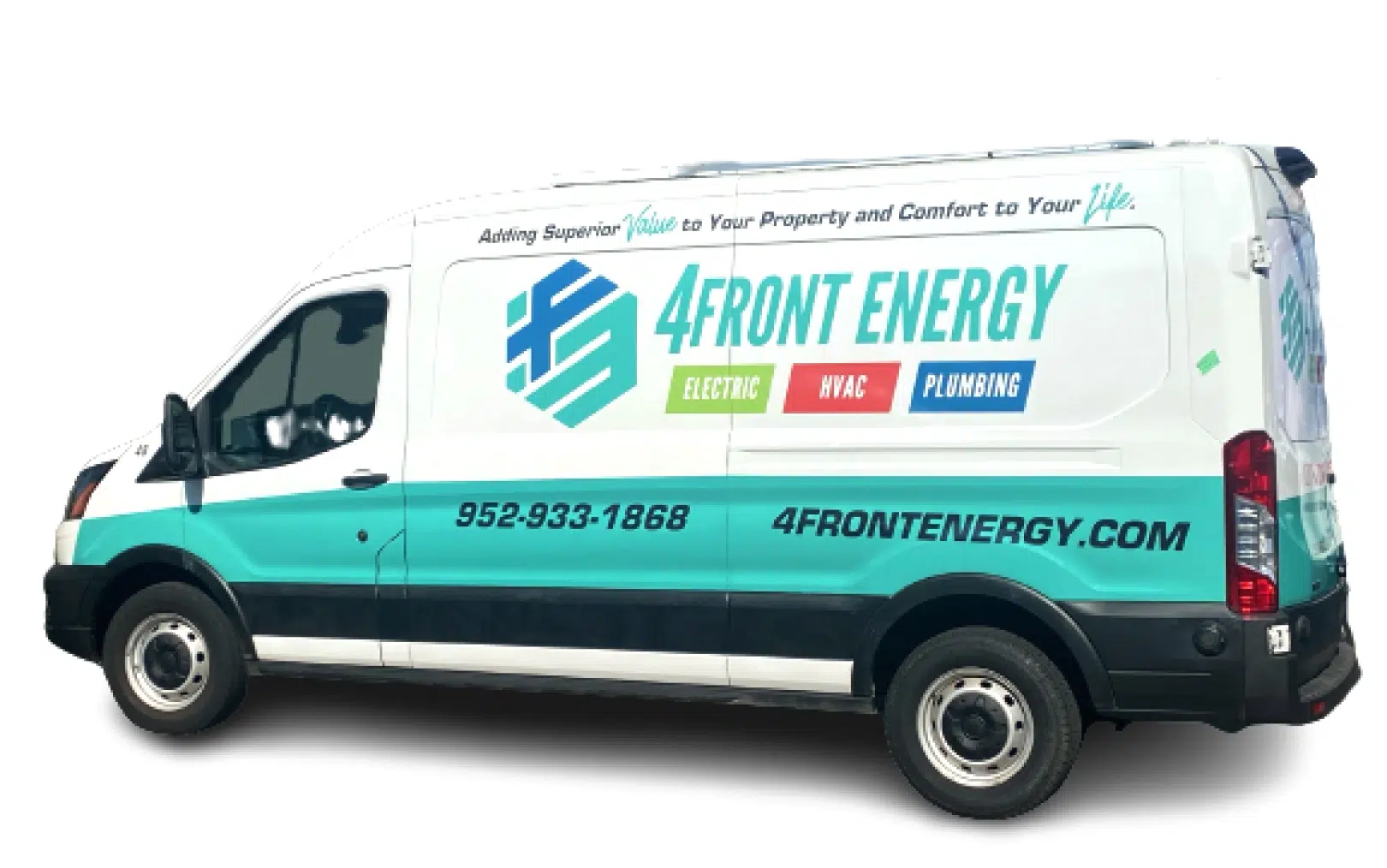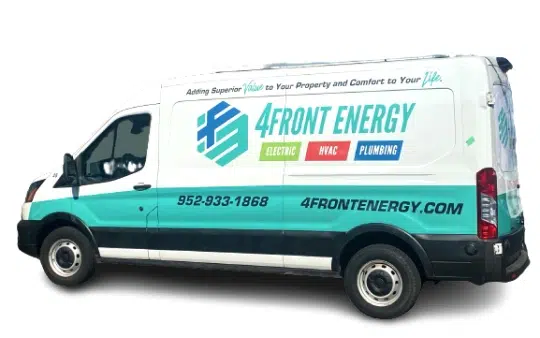 Why Choose 4Front Energy?
We're a Service Company, Not a Sales Company
Licensed, bonded & insured contractor
Trusted Twin Cities service provider for nearly 30 years
Reliable service excellence
One number for electric, HVAC, and plumbing
Stand behind our work with integrity
Fair and straightforward pricing
Provide invaluable comfort and integrated efficiency
Technicians that take pride in their work