Minnesota Plumbing Code: How to be Compliant in 2022
The Minnesota State Plumbing Code exists to "regulate the design and installation of plumbing systems statewide for all buildings including new additions, alterations, repair, and replacement."
The reason DIY plumbing is often frowned upon is due to local state plumbing codes. While you should always get an inspection to make sure everything was done correctly, failure to comply to these plumbing codes can lead to fees, citations, or even complicated repairs and damage down the road.
That's why we're going to build this compliance guide to help DIY and professional plumbers alike meet Minnesota Plumbing Code rules and regulations in 2022.
Minnesota Plumbing Code Compliance Defined
The first step to meeting Minnesota Plumbing Code is understanding what it means to be code compliant. Minnesota State Plumbing code is a set of regulations that dictate how plumbing systems must be designed and installed in all types of buildings, new and old.
2020 Minnesota Plumbing Code states:
It regulates the design and installation of plumbing systems statewide for all buildings including new structures, additions, alterations, repair, and replacement.

It contains requirements for drain, waste, and vent systems, water supply and distribution systems, backflow prevention, water conditioning equipment, roof drainage systems, plumbing fixtures, materials, and nonpotable rainwater catchment systems.
Other states have different codes and regulations, and it is vital to refer to specific state plumbing codes before doing work in other states. Some standard codes might apply across all areas of the country or world, but to ensure compliance must be reviewed before doing any work—both new installations and older repairs.
What Happens When Plumbing Is Non-Compliant?
There can be consequences when you don't meet your state's plumbing code. Non-compliance could lead to:
Fees and citations (especially for repeat offenders)

Complicated or impossible repairs down the road

Required to replace plumbing fixtures or do extensive rework
In some cases, the costs of a non-code compliant plumbing job can be so high that you could have just hired a professional to do the work for you in the first place.
Here's a list of common non-compliance plumbing:
Cutting Corners on Materials
There may be some things that an untrained plumber may think will work for materials because they fit—but this isn't the case. For example, if you have copper or PVC pipes, you must use copper or PVC fittings. Using rubber fittings will almost guarantee you are not meeting code.
Also, never go cheap or cut corners to get something to fit. Buying the proper sizes and high-quality materials will make all the difference between working and not working plumbing, and compliance and non-compliance.
Improper Ventilation
Venting your pipes is a vital part of your home's plumbing. Without proper ventilation, the sewage gasses can make their way into your pipes without proper ventilation, causing noxious fumes to seep up through drains and pipes.
Using the Wrong Size Drainage Pipe
One of the most common plumbing violations is people installing pipes that are too small. For example, the drain for your bathroom sink is vastly different from the drain under the toilet or even your basement floor near the washing machine.
Different amounts of water flow through these drains and require different sizes of pipes to handle the amount of water that goes down the drain. So getting the properly sized drainage pipe is vital to meeting standard plumbing codes and avoiding any flooding in your home.
Incorrect Pipe Slope
Pipes that flow water from drains need to be slightly sloped to flow correctly and prevent sitting water or blockages. If you have a drain with more than 1″ of water standing in it, you need to either decrease the amount of water draining from your sink or increase the slope. A level slope or one that slopes upwards will not drain water properly and will result in a code violation.
Not Leaving the Proper Amounts of Space
There are frequent rules regarding the space surrounding the toilet or other appliances, which may be found in codes. If you can't fit a toilet between the tub and a cabinet without enough room, you're not going to be successful. This might differ dramatically depending on the structure and whether it's commercial or residential, but ensuring what your clearance details are within your state code is essential to remaining compliant.
Missing or Improper Release & Shut-Off Valves
Depending on your state's plumbing code, shut-off valves are required every few feet. If you're missing a shut-off valve, you could have to turn off your water completely at the source when making repairs. A missing shut-off valve can also be a serious safety hazard in the event of a plumbing emergency.
Shut-off valves must also be appropriately labeled so that anyone who needs to work on the plumbing system knows which valve turns off which part of the plumbing system. The same goes for release valves on appliances such as your hot water heater.
What Are Some Standard Plumbing Codes Everyone Should Know?
Tackling any plumbing project requires some knowledge of standard codes across most plumbing tasks. These codes ensure the safe, secure installation of pipes, appliances, or other plumbing apparatuses. But they mainly apply to most bathroom or kitchen plumbing systems.
Using Plumber-Approved Clamps
When you install pipes, you must secure those pipes using plumber-approved clamps. These clamps or straps are generally made of plastic, copper, or steel and can fit the size of the pipe. Minnesota Plumbing Code states that copper pipes must be supported every 6 feet, steel pipe every 12 feet, and PVC every 4 feet. Failing to support your pipes in this way can cause leaks, damage, or applicable fines due to code violations.
Guiding Pipes Through Joists in the Basement
When you're installing pipes in your basement ceiling, chances are you'll be working with joists and boards throughout the area. It's vital to drill boreholes in your wooden studs, which can both uphold the wood's integrity and secure your pipes, so you don't need to use clamps or straps to secure them.
Prime Your PVC Pipes
PVC pipes are an incredibly common pipe to use in home plumbing systems, but they also have a few requirements to ensure a tight seal. One of those is using purple primer when connecting two PVC pipes. The thing with PVC piping is you have to glue them together, but gluing without primer leaves you at risk of loose seals or breaking the seal down the road. The primer will cement them in place and create a second level of protection essential to upholding the integrity of the connection.
Replacing Old Valves
When repairing or replacing plumbing fixtures, it's important to always replace the old valves with new ones. This is because the old valves will have been subjected to corrosion and other wear and tear, which could lead to a future failure. Replacing valves is an easy way to ensure that your fixture will last for years without any problems.
Installing Enough Shut-Off Valves
Shut-off valves are an essential part of any plumbing system, and they should be installed every few feet. If you're missing a shut-off valve, you'll have to turn off your water completely at the source when making repairs. Shut-off valves must also be properly labeled.
Installing Accessible Panels
Complex plumbing systems such as the ones that are behind your bathtub or shower might have a shut-off valve installed close to the fixtures. In this case, the valve likely sits behind a wall or hard-to-reach area. Thus, an access panel is key to gaining access to this plumbing when needed. The last thing you want to have to do is tear into the wall to make any emergency repairs on these areas when the time comes.
Using the Properly Sized Fittings
When working with plumbing, it's important to use fittings that are the correct size for the pipe. This is because using a fitting that is too big or too small can lead to leaks and other problems down the road. Fitting sizes are generally standardized, so finding the right one is usually as simple as matching the diameter of the pipe with the fitting.
Is There Any New Minnesota Plumbing Code?
There have been a few amendments to the Minnesota Plumbing Code that will be effective December 2021. The details can be found here.
Other Minnesota Plumbing Codes can be found on the Department of Labor and Industry website. They will always list the most current codes and regulations and also provide a place to apply for the proper permits.
If you are stuck during a plumbing project and need to find information fast, their FAQ page can often give you the exact answers you're looking for.
The Importance of Meeting Code and Hiring a Reputable Contractor
When it comes to DIY plumbing, reading through your state's plumbing codes is an essential part of the task. The last thing you want to do is find yourself in deep water (figuratively or literally) and be unsure of what to do next.
The biggest failure with DIY plumbing is that homeowners don't know the proper codes as well as a licensed plumber, and thus end up hiring one anyways. This is an issue because sometimes the damage has already been done, and the homeowners are without water for longer than anticipated. They also end up paying more money out of pocket than anticipated.
So the important thing is to 1) know your limits, 2) read your state codes and regulations, or 3) hire a reputable plumber. Luckily, 4Front Energy has the team you need to take on any sized plumbing project you have.
Contact 4Front Energy For Your FREE Estimate!
Our licensed team of professionals is well-versed in Minnesota plumbing codes and has the materials, knowledge, and training to get everything to code and run properly. So call us today to get the job done right.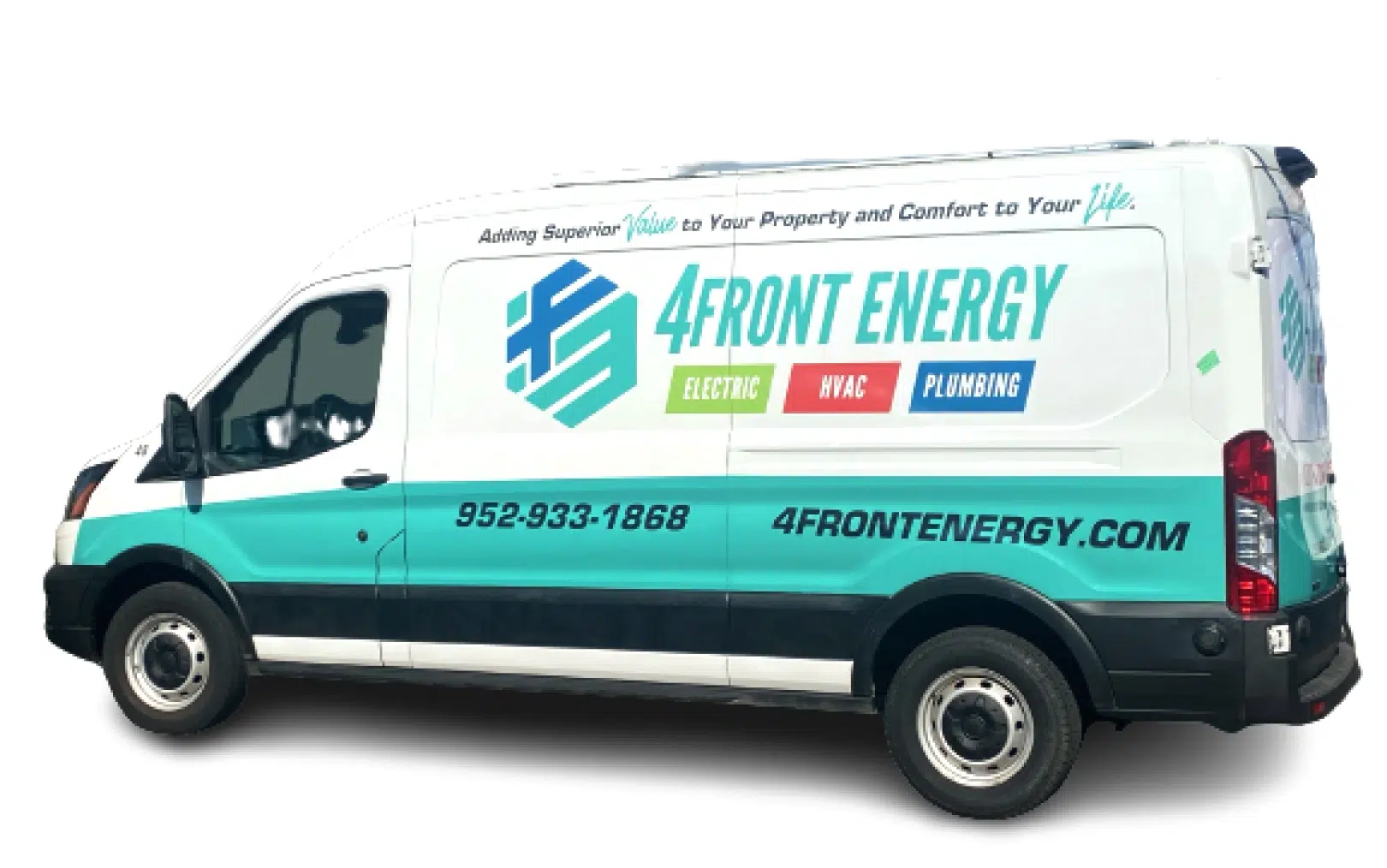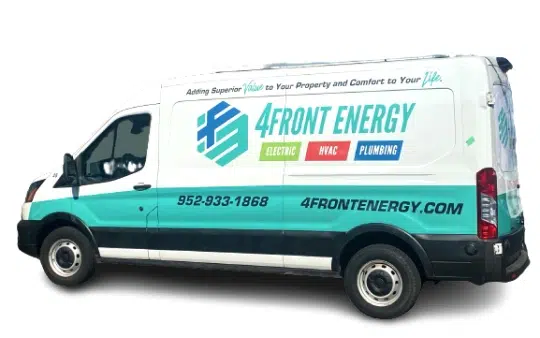 Why Choose 4Front Energy?
We're a Service Company, Not a Sales Company
Licensed, bonded & insured contractor
Trusted Twin Cities service provider for nearly 30 years
Reliable service excellence
One number for electric, HVAC, and plumbing
Stand behind our work with integrity
Fair and straightforward pricing
Provide invaluable comfort and integrated efficiency
Technicians that take pride in their work