Commercial EV Charging Station Installation (Cost & Procedure)
With the increase in electric cars, commercial EV charging station installation has become a popular business for contractors.
This guide will cover everything you need to know about installing commercial EV charging stations. You'll learn how they work, what types of chargers are available, and where to install them for maximum convenience.
This guide will also walk you through all the steps necessary to install EV charging stations at your business.
What Are the Benefits of an EV Charger Installation?
The benefits of installing EV charging stations are that they can help lower fuel emissions and reduce the use of fossil fuels. This is a visible display to the community of your company's commitment to sustainability. They can also help support the efforts of employees who choose the sustainable choice of an electric vehicle. They are both helping the environment and saving money by not visiting the gas station every other week. And installing an EV charger at your place of business means they almost never have to stop at a gas station—how convenient!
What Are the Different Types of Commercial EV Charging Stations?
There are three different types of commercial EV charging stations, which include:
Level I
A 120-volt, single-phase AC power outlet like what you would see in your home. This charger is the slowest and cheapest to install among all three types, with a charge time that can take up to 20 hours or more per car.
Level II
Like Level I chargers, these are single-phase AC power outlets found in areas like homes and businesses. However, a difference is that these are 240-volt or 208-volt, while Level I's can be 120 volts only. 
They also charge the car faster than a Level I but are still slow compared to DC fast chargers, with an estimated time of around six to eight hours per car depending on the battery size in the car. 
Level III
Typically, DC fast chargers use 480-volt three-phase and can provide a car with an 80% charge within 30 minutes. This type of charger is the most expensive to install because it often requires an electrical service upgrade to the property and requires more time to install. Most Level III DC Fast charges are being deployed along major transportation corridors and in heavy-duty transit applications, like buses. 
Do I Need an Electrician to Install a Commercial EV Charging Station Correctly?
Yes, a good place to start your EV charging journey is by reaching out to a reputable electrical contractor that has experience in EV charging equipment. A licensed electrical contractor will understand the local codes in your area and will be able to safely install and start up the EV charging equipment in accordance with the manufacturer's specific requirements. 
Find a partner that is willing to invest the time upfront to educate you on your options for your specific property. Some questions to consider when selecting your EV charging solution partner:
Do they have Reseller relationships with multiple EV charger manufacturers so they can select and procure the right EV charging product for your specific application?

Have they undergone technical training in the installation and commissioning of the EV charging products and networks?

Are they willing to conduct an onsite visit to determine if the existing electrical infrastructure is sufficient to avoid costly unnecessary upgrades and provide you with recommendations for the location of the EV charging equipment?

Are they an approved installer for your electric utility's EV Charger programs?

Are they educated on the current and planned electric utility EV incentive programs?

Do they offer to lease or equipment financing programs to help reduce the up-front capital expense and lower the cost of entry for providing EV charging?

Do they have references they can provide you for past EV charging installation projects?

Are they approved or certified by the EV Charger manufacturer to install and provide warranty service on their equipment?
Choosing the Best Location for a Commercial EV Charging Station
Before deciding on a location, we would recommend you engage a local licensed electrical contractor who has experience installing EV Charging stations to visit your location and conduct a site assessment. 
The electrical contractor will determine if your current electrical system has the capacity required to handle the additional electrical load required to add EV Charging equipment, or if a service upgrade is required. They will also provide a recommendation on the best place to install your EV Charging station(s).  Generally, the closer the EV Chargers are to the electrical panel being used to source their power, the lower the cost of the overall installation will be. 
Places to Install an EV Charging Station
When looking to install EV charging stations, there are many great applications that can benefit from the installation of EV charging depending on your business goals:
Here are a few options:
Workplace

Retail Shopping Centers

Apartments and Condos

Hospitality

Parking Operators

Healthcare

Entertainment and Stadiums

Cities and Towns
What Are the Three Most Important Factors to Consider Before Installing Commercial EV Charging Stations?
Here is a list of factors you should think about when it comes to adding EV charging to property: 
Business Goal Alignment: Any investment in EV Charging stations should align with your business goals.  These may include:
Sustainability – carbon emission reduction metric can be tracked by most current EV charger manufacturers reporting systems

Employee Retention & Attraction: Offering EV Charging stations at your property can be attractive to current and prospective employees who are concerned about sustainability.
Return-On-Investment: EV Charging stations can provide a source of incremental revenue for any business, which can be used to offset or pay back the cost of investment in EV Charging. 
New Customer Attraction: Having EV Charging available at your location can attract new customers to do business with your company and they will tend to dwell longer, which increases your revenue per customer visit.
Do I need Smart EV Chargers: Smart EV Charging indicates that the chargers are connected via cellular or Wi-Fi to a network services platform. Having the EV Chargers connected to a network allows the owner (referred to as the Host site) to set the price of the electricity at the station, collect payment, set the duration of the charging session, allows the manufacturer to perform remote diagnostic repairs, and push software updates, and gives the owner the ability to group, track and control your EV Charging stations at multiple locations through a single user network portal, track carbon emission metrics and much more. Generally, there is a monthly network fee for each charger associated with these services, however, oftentimes this fee is offset by the incremental charging revenue the owner derives from the EV charging station. 
Are there Incentives Available for Installing EV Charging:  There is a host of incentives/rebates available for installing EV Charging stations depending on your location.  There may be Federal Tax Credits, State Grants, or local electric utility rebates available to offset the cost of installing EV charging stations. We recommend talking with your electrical contractor partner for the latest information on available incentives in your area.
What Are the Steps in Commercial EV Charging Station Installation
Here is an example process for commercial EV charging station installation:
Initial Client Discovery Consultation – EV Charging station partner will have a discussion to determine your business goals, scope, etc.

Incentive Identification – EV Charging station partner research available incentives/rebates applicable to your project. 

Site Consultation (Assessment) – Partner visits the site to determine available power, location of EV Charging equipment if utility upgrades are needed.

Product & Network Services Identification – Partner determines the right EV Charging station type and manufacturer for your specific application and the required network services.

Proposal Development & Presentation – Partner develops a formal proposal and project design and presents to the owner.

Construction – Partner project managers the procurement of the EV Charging and electrical equipment, scheduling, permitting, installation, start-up, and commissioning of chargers.

Close-out & Care – training on the product, connection with the network services customer service group, incentive application support, and final invoicing for the project.
What Is the Cost of a Commercial EV Charging Station?
Installing EV charging stations varies widely depending on the amount of available electrical power, number and wattage of charging stations, location of the stations in proximity to the power source, and the need for any trenching or concrete work required. However, the startup costs are compensated by low maintenance and incremental revenue that may be derived from each.
In addition, many manufacturers or partners can provide a Charging-as-a-Service (CaaS) business model which lowers the cost of EV Charging entry to the owner through a monthly lease program. Some of these programs allow the owner to lease or finance the cost of the EV charging equipment, installation, extended warranty, and networking fees up to five years for a monthly fee. 
When exploring the costs of EV Charging ask your electrical contractor partner if they offer a CaaS option at the time of the site consultation. 
Is It Better to Have Multiple Chargers at My Business or Just One?
It's up to you if you choose to have a single or multiple EV chargers installed at your location. It also depends on the type of business and how many cars are expected to charge per day.
Your electrical contractor EV Charging partner will be able to offer a recommendation on the number of chargers at the time of your initial site consultation.  A common starting point is to install two initial EV Chargers and add to that amount over time as the demand grows at your location.  
Also, starting with two chargers can be done in most applications using your existing electric power capacity.  As you add more chargers, an electric service upgrade may be required, and your electrical contractor partner can provide you with the costs of any upgrades at that time.
Contact 4Front Energy Today!
If you're ready to take the leap into sustainability and install EV chargers at your business, give 4Front Energy a call! Our professional team of electricians is well-versed in EV charger installs and can get you up and running in no time. We have successfully installed thousands of chargers across the state of MN.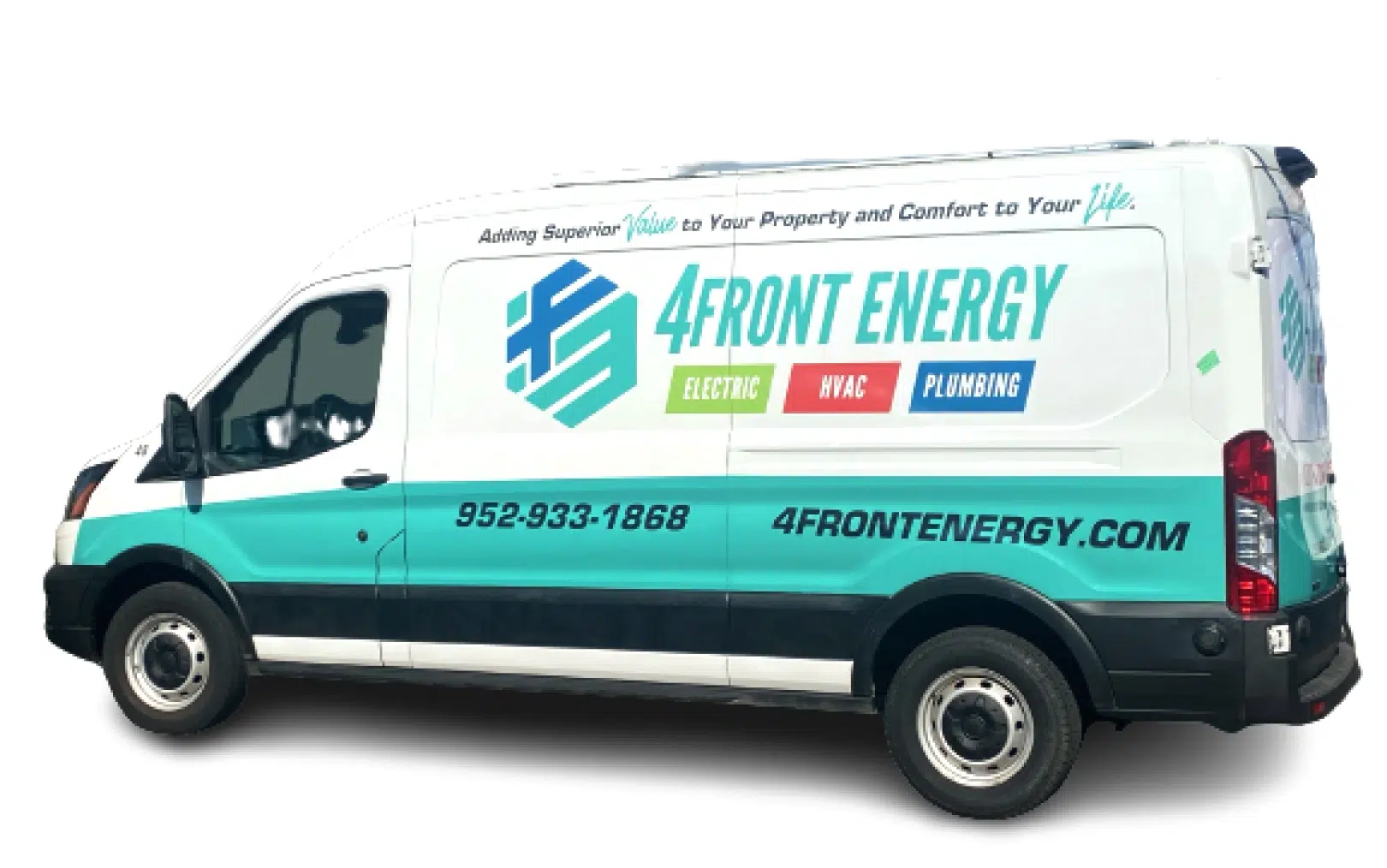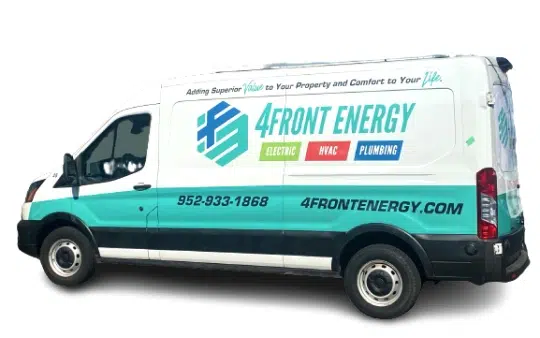 Why Choose 4Front Energy?
We're a Service Company, Not a Sales Company
Licensed, bonded & insured contractor
Trusted Twin Cities service provider for nearly 30 years
Reliable service excellence
One number for electric, HVAC, and plumbing
Stand behind our work with integrity
Fair and straightforward pricing
Provide invaluable comfort and integrated efficiency
Technicians that take pride in their work